Welcome to the Saskatchewan Fire Fighters Curling Association website.
The SFFCA is affiliated with the Canadian Fire Fighters Curling Association.
2018
Saskatchewan Fire Fighters Curling Association
2018 Provincial Champions and 2018 Canadian Fire Fighters Champions  
Saskatoon/Swift Current/Prince Albert Fire Departments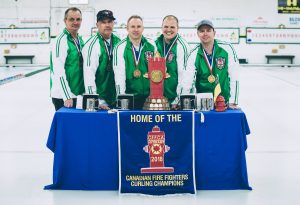 Garnet Zummack (Director), Gregg Tarasoff (Skip), Chris Haichert (Third), Carmen Koch (Second), Tyler Harrison (Lead)
The 60th Provincial Championship was hosted by: Assiniboia /Tyler Bamford              
Location: Assiniboia Curling Club
Friday February 2nd to Sunday February 4th, 2018
The Tarasoff rink represented Saskatchewan in the 59th Canadian Fire Fighters Curling Championships in Thunder Bay, Ontario – March 30th to April 8, 2018.  The Team went thru round robin undefeated, beat Alberta in the 1 vs 2 game to advance to the final where they defeated Alberta in a nail biter to win the Championship.  All four team members were voted All – Stars by their peers.
Thunder Bay, ON 2018, 59th Canadian Championship Event Website
---

2019
The 61st Provincial Championship will be hosted by: Borden F.D./Ian Wainwright
Location: Langham Curling Club
Friday, February 1st to Sunday, February 3rd, 2019
Winners of the 61th Provincial Championship will attend the 60th Canadian Fire Fighter Championships being held in Kelowna, B.C.  to be announced 2019.
For all information regarding the provincial championship contact:
Director: Ian Wainwright – (cell) (306) 227-5775  (home) (306) 997-2165  
e-mail : i.g.wainwright@sasktel.net
President: Chris Haichert – email: chaichert@hotmail.com
Treasurer: Gregg Tarasoff – email: gkt@shaw.ca